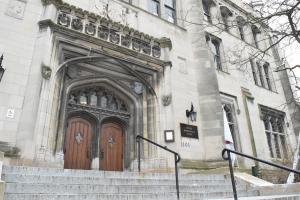 So you're a high school student starting to think about college tours. When I was in your shoes, I was both excited as well as a little bit apprehensive, as I was unsure how I would possibly go about picking schools I would spend four years of my life at. I knew college visits would be a great way for me to figure out how to do that, but I didn't learn how to take full advantage of those visits until I had visited quite a number of schools. This guide was written to impart all my tour-related wisdom on you so you can gain the full benefit of visits from your very first one!
BEFORE THE VISIT:
Before you go on your tour, it's good to plan out your visit thoughtfully beforehand so you make the most of the opportunity when you get there. Most schools will have the standard information session and general tour available to prospective students (and their families), but some will have specialized tours as well (such as an engineering tour) or programming such as overnight visits. Figure out what makes sense for you, your family, and your schedule. I only did standard visits, with one engineering specific tour mixed in, and found that I still got what I needed from each visit.
After you've picked out a type of visit, a day, and a time, it may feel like you're good to go. I would advise you, however, to take some time to do some research on the school you're visiting, so you can spend your time asking the questions you can't get answers to online in person. Also, it's good to take some time to research the logistics, such as where to park, how to get to the school from your hotel, where to eat, etc. I was guilty of not planning things out one too many times. For one visit, we didn't take the time to figure out parking, so we hurriedly parked in what turned out to be a student and faculty only garage and got a ticket.
DURING THE VISIT:
When you're visiting the actual school itself, try to take notes during the info session and tour if you can. You'll find that this makes it easier to differentiate schools later on, when you're reflecting back on your visits. If you forget to take notes during the visit, see if you can formulate some thoughts that night or sometime soon after the visit, just so you have them to remember the specific details about each college.
Once your tour wraps up, it might be nice to spend some more time on campus to get as complete and accurate of a feel for campus and the college as you can. If you get the chance to, see if you can talk to current students about their experience to get as complete of a picture as you can, specific to the experience you're looking for. Admissions counselors can be a very helpful resource as well. While they might not have as much current experience regarding what attending the school is actually like, they are there to help you with any and all questions you may have about the application process itself, and can help direct you to the best resource in terms of understanding the current student experience. I found my tour guide and my admissions counselor when visiting UChicago to both be invaluable resources who greatly deepened my interest in UChicago. It can also be very useful to get a feel for the campus yourself, by eating in a dining hall, perhaps, or touring a famous campus monument. This was something I tried to do as much as I could while touring colleges. I found that eating among current students could really help me envision myself among them, and get a feel for what my life would be like if I attended that university.
AFTER THE VISIT:
Last but certainly not least, it's important to take some time to have some and enjoy wherever you're touring! One thing I recommend is not trying to squeeze multiple tours into one day, so you can make sure that this experience is something that doesn't become too much of a stress on you and your family. I do recommend taking some time to get to know the city or town the college you're touring is located in; in my case, we flew into Chicago on Thursday night and didn't leave until the afternoon on Saturday, so we had time to go to the top of Willis Tower and grab deep dish pizza from both Lou Malnati's and Giordano's.
That is just about all the wisdom I have regarding college visits. I think the most important thing to remember is that what each person is trying to get out of a college tour is different (because what they're looking for in a college experience is different), so ultimately, find what works best for you and your family and stick with that.