A University of Chicago education is more than a set of skills, a rite of passage, or even the ability to think critically. It is an experience—part of a lifelong dialogue that encourages students to converse across cultures and disciplines. Our curriculum provides you an extensive intellectual foundation in a wide range of disciplines and helps you approach problem solving by evolving your interdisciplinary toolkit. Since our founding, we've believed strongly in the benefits for students that our world-class liberal arts education cultivates: critical reading and writing skills, nonconventional approaches, and the fostering of a community of versatile, broad thinkers who graduate with a well-mined skill set that prepares them to not only pursue careers across a wide number of fields, but also to envision and create the kinds of jobs that don't even exist yet.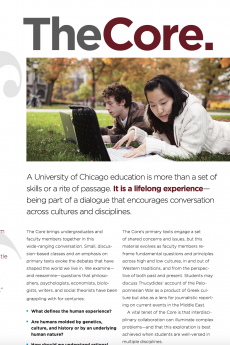 The Core
Your intellectual foundation at the University of Chicago will be guided by our famed Core curriculum, a model for American general education and the UChicago student's introduction to the tools of inquiry used in every discipline—science, mathematics, humanities, and social sciences. The Core curriculum takes about 1/3 of your time at the College, but can be less depending on AP/IB credit and placement testing. The Core is distinctive for its small, discussion-based classes (discussion classes are capped at a maximum of 19 students) and its commitment to primary texts. It provides the background for any major and for continuing study after graduation, as well as a common experience for all students in the College; not everyone takes the same classes, but everyone studies similar disciplines, which provides each student in the College a common vocabulary of ideas and skills. Through the Core, all UChicago students engage in the same sorts of classes and read the same kinds of texts, struggling and triumphing together over similar ideas. 
The Core brochure
Learn more about the Core curriculum through the Core brochure, produced by the Faculty of the College and the Admissions Office, which details the Core experience.