Transition Program
The transition from military service to the campus environment can be a difficult one. UChicago has created a pre-orientation program offering academic preparation designed to maximize individual potential. The program also connects our Veteran Scholars to VA services, offers an introduction to career programming coupled with professional development opportunities, and builds relationships between students.
Providing an academic focus rooted in calculus and methods/ writing curriculum that offers the UChicago level of rigor without the impact of permanent grades.
Connecting students with VA Support; professionals in healthcare enrollment, claims processes, and benefits ahead of classes beginning.
Building relationships among scholars (through social opportunities and various workshops)
What I really like about UChicago's academic environment is that inquiry doesn't stop at 'I've given you this problem, solve it my way.' It actually opens the field up to 'Here's a number of ways you can tackle it, I want to see what your creativity and your intellectual rigor produces.

-

Alex Kilbourne

Army Veteran, UChicago Veteran Scholar, Class of 2023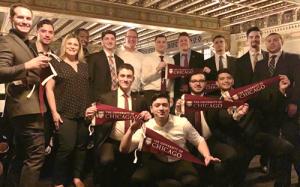 Dedicated Academic Advisor
The path to graduation can be overwhelming at times. Decisions regarding class selection, declaring majors/minors – and associating career and graduate school paths with those decisions are common. UChicago includes academic advising for our Veteran Scholars designed to draw from individual backgrounds and interests, while offering an intersection of services that provides a one-stop-shop to support their success.
Support/identify your academic goals
Faculty outreach
Dedicated no cost tutoring
Programs and Support
Veteran Scholars Program
Being a Veteran Scholar at UChicago means access to a dedicated one-stop-shop of services and programming that enables the student veteran throughout their College experience.
Social Programming to strengthen relationships among student veterans as well as with the campus community
Career Programming providing customized events, workshops, and engagements for student veterans and employers
Academic Advising tailored to the individual student veteran's academic goals and desired career outcome while providing access to tutoring and support
Professional Development opportunities including a speaker series and opportunities for engagement
Supporting Financial Needs to include support with tuition and fees, cost of living, healthcare and identifying gaps with VA education benefits to provide seamless support
"The Veteran Scholars program brings together veterans from different backgrounds, branches, and job occupations and instantly provides us a network of people who believe veterans can succeed at elite institutions such as the University of Chicago."

—Jason Guba, Marine Corps Veteran, UChicago Veteran Scholar, Class of 2023
UChicago ROTC
Army ROTC is a registered student organization offered on campus at the University of Chicago. Students participate in physical training, classes, and leadership labs on campus.  The training a student receives in Army ROTC provides leadership development, military skills and career training. In addition to joining a growing community, there are opportunities for scholarships which include tuition and a stipend. Upon completion of the program, an Army ROTC graduate is commissioned as an officer in the Army. 
More information is available at UChicago Army ROTC
"I love UChicago ROTC because when I can start my day surrounded by a group of people who care about me and build me both physically and mentally, my college experience is inevitably phenomenal."

—Cadet Jonathan Merrill '23
Financial Aid and Support
UChicago is committed to supporting our Veteran Scholars. The College participates in the Yellow Ribbon Program. In addition to VA benefits, UChicago's generous need-based financial aid program may supplement your benefits toward overall cost of attendance.
We are also happy to waive your application fee.
"The University of Chicago Veteran Scholars program is one of the top Ivy/ Ivy plus programs for veterans. From financial aid and on-campus resources to personalized academic and career advising for veterans, UChicago has proven that it not only wants high-performing veterans on campus, but that it is well-prepared to fully support them. I am beyond grateful to be a student and veteran at UChicago."

—Kaedy Puckett, Navy Veteran, UChicago Veteran Scholar, Class of 2023
Frequently Asked Questions
Does UChicago have any student groups or alumni groups for veterans?
Yes, in addition to a Student Veterans of America chapter, our non-military affiliated students and veteran students created the Maroon Veterans Alliance. Additional veterans groups exist within graduate programs and a dedicated military affinity group supports our alumni.
Does UChicago accept transfer credit from classes I took during my military service?
Admitted Veteran Scholars are welcome to submit a petition to have courses reviewed for transfer credit.
I have not taken the SAT or ACT recently; do I need to retake these?
No, the ACT and SAT are not required for an application to UChicago. If you feel confident that your scores can strengthen your application, you are welcome to submit them, but their absence will not limit you in any way. We would be happy to discuss what scores would be competitive along with your application.
Should I apply as a first year or transfer student?
Neither! UChicago has created an exciting new application process for veterans and service members that will take all of your academic history into consideration. Once a student is admitted they are welcome to have their college-level courses reviewed for transfer credit.
Is UChicago a Yellow Ribbon School?
Yes, UChicago proudly participates in the Yellow Ribbon Program with eligible students in the College (our undergraduates) qualifying for support that covers the remaining tuition that the GI Bill doesn't cover. Many graduate programs also participate with the Yellow Ribbon Program.
As a service member/veteran, my high school grades do not demonstrate my current academic aptitude and potential. Will this considered?
Absolutely! We understand that for many veterans High School performance does not reflect them as students. While we will look at that performance, we will strongly consider college coursework (community college, military education, online classes etc) along with your writing samples, letters of recommendation, interviews, and experience.
What opportunities for housing exist?
Our Veteran Scholars live near campus in Vue 53. Apartments are offered at a special reduced rate and include studio, 1 bedroom, and 2 bedroom options that are welcoming to families and pets. Veteran Scholars are also welcome to share a 2 bedroom/2 bathroom apartment with another student veteran. The apartments come furnished or unfurnished and provide our students a community environment to live and study while being included in campus community culture.
Is an interview available?
Yes, our Veterans Application Process includes opportunities to interview individually and with committee. These interviews are not designed to be intimidating or "promotion board-style" but rather to give you an opportunity to share your experiences with us and highlight the performance you feel most reflects your potential for academic success.
Can I receive additional financial support beyond my GI Bill?
Yes! UChicago tailors a financial aid package for our Veteran Scholars that provides support designed to supplement the GI Bill. In addition, there are generous grants available to support summer internships and research experiences so that our Veteran Scholars are able to participate in competitive career development and academic opportunities when not receiving GI Bill support.