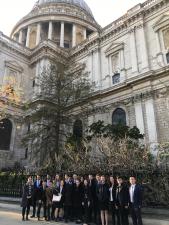 For those of you currently preparing to apply to college, much of your focus and willpower right now is probably directed towards getting accepted. Once you are admitted, however, or if you're someone who likes to think ahead, you might start wondering about what comes next. College hones many of the intangible skills that prepare you for joining the workforce, like critical thinking, active listening, and problem solving. At the same time, you might want to know how to prepare more concretely for the next step as well. This guide will provide a broad outline of both what to do and how to utilize the resources available to you. Action items and opportunities will vary across majors, schools, and universities, however, so be sure to research the specifics of the career field(s) you're interested in!
CLUBS & ACTIVITIES
Joining clubs or organizations related to your potential career(s) is a great way to help gauge your interest in pursuing a certain career. For me, joining Women in Business (WiB) has been a wonderful way to learn more about business (and finance specifically), and has provided me with a strong network of older mentors who have supported me in the internship application process and have answered any questions I have. I can't even count all the number of times I've reached out to third- or fourth-year WiB associates about interview prep, their experiences in a program, or certain classes, and how helpful and thorough they've been in their responses. Most universities have a host of clubs to join, such as pre-law fraternities, pro bono consulting organizations, newspapers and publications, and many more. There's probably an organization catered specifically toward your area of interest. If not, you can always take initiative and start a new club yourself! It's a great way to show leadership and demonstrate your drive.
INTERNSHIPS
The next step to exploring your future career is to complete an internship in your field(s) of interest. Like clubs, internships give you practice and clarity on a specific interest, with internships providing real-world context about your career. They give you an idea about pacing, day-to-day responsibilities, and culture. Internships also offer a great opportunity to network. Speaking with people a little older than you, who work or have worked in the space you're interested in, can paint a vivid picture of what your future might look like. These colleagues might also be helpful in putting you in touch with others who will be able to consider you as a potential job applicant. My friends interested in becoming doctors have found working in hospitals to be incredibly illuminating, while my friends interested in pursuing a PhDs have enjoyed doing research with professors in labs on campus during the summer.
My two internships at different startups have been uniquely valuable in a multitude of ways: I've experienced what 9 to 5 work is like and what startup and entrepreneurship culture has to offer. I have also learned a variety of different skills, from content marketing to how to cold call someone. Plus, internships can be just plain cool. Last summer, I worked at DogSpot, a maker of innovative sidewalk sanctuaries where dogs can hang out in air-conditioned/heated houses instead of being tied up or waiting in the car. There was at least one dog in the office every single day. It was awesome. This summer, I will be working at Kata Capital Partners, a search fund (the startup version of a private equity company), that has acquired Ticketech International, a parking services enterprise. This internship is through UChicago's Jeff Metcalf Internship Program. Jeff Metcalf Internships are paid opportunities, specifically for UChicago students, with employers across a wide variety of fields during both the summer and the academic year. Metcalf Internships include kickoff workshops, networking opportunities in key cities, and support throughout the summer through UChicago's Career Advancement.
CAREER SERVICES
On the topic of career advancement, on campus, a great resource for narrowing down which path you want to pursue and how to get there is your college's career center. Career services vary from college to college, but many will have an online database with internship and job listings, and counselors who provide advice on how to improve your resume, cover letter, and interview skills, as well as career guidance in general. Career advisers can be so helpful because their job is literally to help you figure out what you want to do.
UCHICAGO CAREER ADVANCEMENT
On top of providing general career advising, at UChicago, the Office of Career Advancement runs a number of pre-professional "UChicago Careers In…" programs: UChicago Careers in Education Professions, UChicago Careers in Health Professions, UChicago Careers in Public Policy and Service (called the Fried Public Policy and Service Program), UChicago Careers in Science, Technology, Engineering, and Math, UChicago Careers in Law, UChicago Careers In Entrepreneurship, UChicago Careers In Journalism, Arts, and Media, and UChicago Careers In Business (called the Trott Business Program). These programs provide students with specific information about the fields they're interested in, through specialized programming, and have advisers who had previously worked in the fields they advise students in. I am in the Financial Markets program, which is geared towards those interested in quantitative finance and proprietary trading. In the program, we've been able to go on site visits to different trading firms downtown in Chicago, learn from experts about the markets and the various theories underlying quantitative trading, and take classes at the Booth School of Business. We've also been able to participate in the Midwest Trading Competition, in which my team took home third place on a portfolio optimization case.
Another program offered through UChicago's Office of Career Advancement is the treks program. Treks are 2-3 day trips to a specific location with a group of 15-25 students who can meet potential employers in a particular industry. Treks are a great way to explore your field of interest, network with those in that field, and better understand how to secure an internship/job in that field. I've been on two treks, the Entrepreneurship Trek to San Francisco in December 2017, and the Business Trek to London this past spring break.
We visited seven firms total during the 2.5 days of the London trip, ranging from large bulge bracket banks to a small consulting firm, and taking the London Underground to our different stops. I actually decided I wanted to pursue investment banking during the trek, after speaking with inspiring older UChicago alums at our visits in the field. They spoke with us about the deals they've worked on, how they had found their way from Chicago to London, and one firm even gave us the chance to do a case study ourselves. My favorite visit was to a mid-cap focused private equity firm, in which the alum who spoke with us single handedly inspired me into epiphanies about which path I wanted to take to get to my dream career one day.
While the London Trek was a great learning and career growth experience, I also managed to have a lot of fun as well. I arrived in London a day early and explored the city a bit on my own on Sunday, making stops at Buckingham Palace, Tower Bridge, 221B Baker Street, and the Palace of Westminster/London Eye. In the evening, after the day's activities concluded, my fellow Trekkers and I dove into the city's local restaurant scene and explored. I met some really cool fellow UChicago students from very different circles of life, and I became very close to someone I'd only been acquaintances with before the trek, as we chatted about a variety of different things in between site visits, while walking, on the train, and at lunch. Treks are such a great way to bond with other people in the UChicago community. I fell in love with London over the course of the trip, and am excited to return again soon, hopefully.
In summary, there are many pre-professional opportunities in college, from internships, to clubs, to activities like treks. I wish you the best of luck in discovering your own potential and interests!