Featured
Think Transform Thrive -- The University of Chicago Admissions Overview
Academics
The Core brings undergraduates and faculty members together in this wide-ranging conversation. Small,
discussion-based classes and an emphasis on primary texts evoke the debates that have shaped the world we live in.
Pritzker School of Molecular Engineering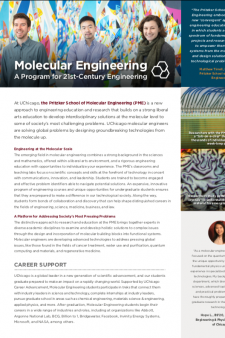 The Pritzker School of Molecular Engineering (PME)—the first engineering initiative in the 125-year history of the University of Chicago—relies on the school's core tenants: rigorous inquiry and social impact.
Marine Biological Laboratory
For over 125 years, the MBL has served as an exciting world-class destination to study marine biology.
Learn about resources for entrepreneurship at UChicago.
Student Life
The University of Chicago thrives on the diversity of voices found in its student body.
Our distinctive faculty-led programs bring the UChicago classroom to the world.
With a campus that is home to students from all 50 states and 120 countries, our community represents a wide variety of ethnic, cultural, religious, socioeconomic, and geographic backgrounds, promising vibrant debate and spirited discourse.
Whether you major in the arts, philosophy, or molecular engineering, at UChicago you can take advantage of hundreds of artistic groups, activities, and events on campus regardless of your field of study.
University of Chicago Athletics aims to enrich
the physical and intellectual lives of our students.
The Institute of Politics is a nonpartisan organization that inspires UChicago students to pursue careers in politics and public service. Through extracurricular opportunities and programming, in tandem with UChicago's famed and rigorous Core curriculum, it aims to connect young people with practicing policymakers and instill a passion for civic engagement.
Financial Aid
No Barriers - Financial Aid at UChicago
Our No Barriers policy allows UChicago students to graduate debt-free and prepared for lifelong success—no matter their chosen major or background prior to enrolling in college.
Chicago-Area: UChicago Promise
UChicago Promise offers a variety of resources for Chicago students who are interested in attending the University of Chicago or other selective institutions.
National Police and Fire Scholarship
To be considered for this scholarship, candidates must be high school seniors who qualify for admission to the University of Chicago and be children (or the legally adopted children) of currently active, sworn municipal, county, or state firefighters or police officers in the United States and Puerto Rico.)
Career Advancement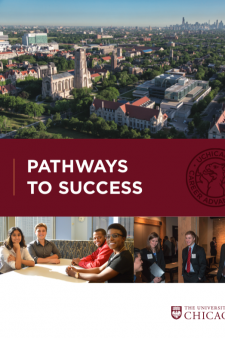 Employers from many different industries partner with Career Advancement to recruit UChicago talent for internships, full-time jobs, graduate school, and more!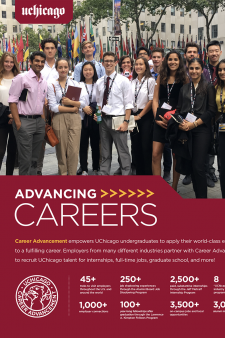 Career Advancement empowers UChicago undergraduates to apply their world-class education to a fulfilling career.
Non-English Publications
International Experience in Mandarin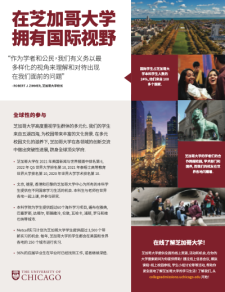 International Experience Brochure in Mandarin
Think-Transform brochure in Spanish
Think-Transform brochure translated into Spanish
Our No Barriers financial aid brochure translated into Spanish
Papercraft
Harper Memorial Library, with its elegant Gothic architecture, serves as a campus landmark for many. The first two floors are comprised of classrooms and administrative offices where students attend writing workshops, get help from a tutor, or meet friends and faculty at the Café. Additionally, the Arley D. Cathey Learning Center, a 24-hour hub of College intellectual and social life, supports individual and collaborative learning in a grand setting.
The Logan Center, perfectly situated to capture the breath-taking views of UChicago and the city, offers an array of arts programming and resources to students and Hyde Park residents. One of the Logan Center's most flexible spaces, the beautiful performance hall, performs a variety of functions from concerts to film screenings to lectures (… just to name a few!) In addition to classrooms and rehearsal spaces, the Logan Center is filled with lounges and nooks for studying and socializing.
Rockefeller Memorial Chapel, with its Interreligious Center, serves as the hub of spiritual life at the University of Chicago, offering diverse religious events and ceremonies on a daily basis, as well as regular interreligious gatherings. In addition, Rockefeller hosts major performing arts and academic events, and serves as the locus for University-wide gatherings and celebrations of many different kinds, including Convocations.
There is perhaps no better symbol of the University of Chicago than Cobb Gate. Lined with expressive grotesques and draped in colorful ivy, Cobb Gate has stood as the entrance to the Main Quad for over 100 years. Passing underneath its exalted arch, one becomes a participant in a rich educational dialogue as well as a member of the greater historical University community.
The Joe and Rika Mansueto Library features the most modern and innovative reading room on campus, as it's distinctive UV blocking panels that make up the large dome allow students to study while basking in the sun or appreciating a light snowfall. Beneath the reading room is a massive storage space that holds up to 3.5 million volumes, all of which are retrieved completely automatically using a system of robotic cranes.