The University of Chicago has one of the most distinguished faculties in the world, with more Nobel laureates associated with UChicago than any other university in the world.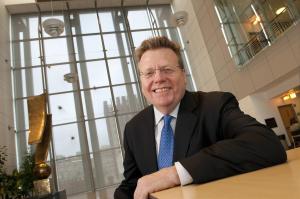 Awards associated with current and former faculty and alumni of UChicago
90 Nobel Laureates, eight currently on faculty
136 American Academy of Arts and Sciences fellows
17 John Bates Clark Medalists (Economics)
6 Fields Medalists (Mathematics), two currently on faculty
213 Guggenheim fellows
29 MacArthur "Genius" fellows
46 National Academy of Sciences members
12 National Humanities Medal winners
15 National Medal of Science winners
5 Presidential Medal of Freedom winners
20 Pulitzer Prize winners
Valuable Combination
The unique combination of a liberal arts college with a research university results in a classroom culture rich with faculty-to-student exchange. Ninety percent of our courses are taught by faculty members, and the average student to faculty classroom ratio is 6:1. Students have many opportunities to build relationships with faculty, through classes, office hours, department-sponsored lectures and events, and faculty roundtables. Additionally, most of our faculty live in Hyde Park, the neighborhood surrounding the University, which is a rarity for an urban university and an invaluable component of our academic community. Don't be surprised to see your professors at the park, in line at the grocery store, or signing books after class at the local bookstore.