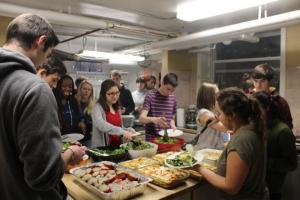 As I headed into my second year, I wanted to get more involved and meet more people within the UChicago Christian community. I joined the Catholic Students Association (CSA) Board as treasurer, helping to plan CSA events throughout the school year. My favorite was our weekly fellowship dinners where our Calvert House Undergrad Dinner (CHUD) chair and other CSA member volunteers would prepare home-cooked meals for around 25 of us. The dinners were special because each week I had the opportunity to "serve" my fellow friends and engage in thoughtful faith-oriented discussion. Everyone is welcome at CHUD, regardless of faith background, and many of my Christian soccer teammates would consistently head to CHUD with me after practice.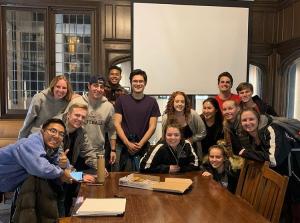 When I think about the UChicago Christian community, it's the little things that stick with me: the conversations with other undergraduate and graduates students in the Calvert House lounge after daily mass, meeting new CSA members who came with their friends to weekly CHUD, or reflecting on readings with teammates during our Fellowship of Christian Athletes' Bible Study. The Catholic Students Association has been foundational in helping me to grow as a person of faith and I am inspired daily by my fellow board members.
While I can only speak to the Christian experience at UChicago, there are a number of other religious and spiritual RSO's that I didn't mention. Curious about Jewish Life? You should check out my friend Shira's blog post. You can also find out more about different UChicago Registered Student Organizations (read: clubs!) and faith-based programming on the Spiritual Life website.