UChicago's Campus North Residential Commons has brought a whole new vibe and living area to campus. With a new dormitory and dining hall, North's 800 residents are split between eight houses that span three towers, all connected by the ground-level lobby. Multiple study rooms, classrooms, and music rooms can be found in each building, allowing a mix of socializing, learning, and living. The second floor windows showcase beautiful outdoor courtyards where students can gather.
The Houses in North (one named after the Dean of the College, John Boyer, and his wife!) have all already made their mark in the House culture at UChicago with fun and unique traditions. One example is Thangaraj House: fellow House-mates decorate your door for your birthday with people drawn on spoons!
In addition to Baker Dining Hall on the first floor of the building, North also provides retail and dining space in the towers. Below are some of our new favorite spots: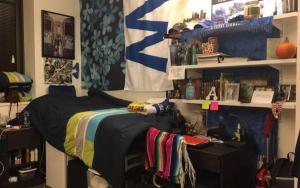 Dollop Coffee Shop  
The newest (and possibly coolest) new coffee shop on campus is located in the heart of North Campus. The modern space has a chill vibe with loads of space to hang out with friends or do work. With prices that won't hurt your wallet, you'll fall in love with their coffee, food, and amazing playlists!
Timbuk2 & Heritage Bicycles
These two stores sell backpacks/luggage and bikes, respectively. Timbuk2 is a national brand known for their extremely durable messenger bags and their cool custom designs. Heritage is a Chicago-based bicycle company offering students custom-make bikes.
Insomnia Cookies
Cookies delivered to your door until 3 am?!? Yes, you read that correctly! Insomnia is the best place to get a late night snack on campus. With cookies, ice cream, and ice cream cookie sandwiches, they have everything that will satisfy a sweet tooth!