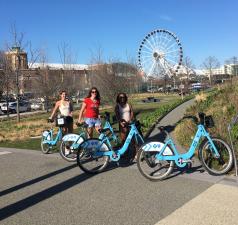 One of my favorite memories of Chicago is the day I discovered the joy of biking in the city. During my first year at UChicago, my dorm held a lottery, and some of my friends and I won free tickets to a Cubs game. The university bussed us and some other students out to Wrigley Field for a game. It was my first time at a Cubs game, and I loved the high energy! After the game, a few friends and I decided to bike back to Hyde Park from Wrigley Field by renting Divvy bikes from a station near the stadium.
What is Divvy? Divvy is Chicago's bike sharing program. You can rent a bike for 30 minutes or buy a day pass. If you're like me and find that you will be biking a lot during the year, you can also buy the student annual pass, which gives you unlimited 45-minute bike rides all year!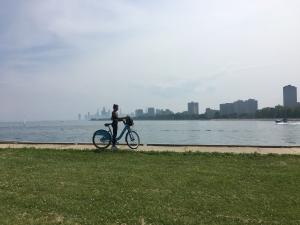 Apart from just getting around campus, I love biking for the freedom it gives me to explore Chicago whenever I want! A few of my friends own bikes and the others will rent day passes with Divvy so that we can bike to a new Chicago neighborhood and explore on sunny days! So far, my friends and I have biked to Greektown, River North to get Noyo (frozen yogurt made from almond milk!), the Loop to get Stan's Donuts (arguably the best donuts in Chicago), Wicker Park to get acai bowls, and Uptown to try the best bagels I've ever had at a Jewish deli called Sam and Gertie's.
While any destination in Chicago is going to make for a good time, they do say that "it's about the journey, not the destination." Though I may be a little biased, I do think that biking with friends makes for a fun and memorable journey, and I highly recommend you give it a shot if you ever get the chance to visit Chicago!