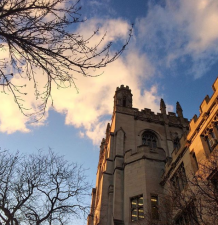 Thanks to the incredible generosity of the anonymous donor "Homer" and additional gifts from alumni and friends of the University, for over 15 years the Odyssey Scholarship program has provided enhanced academic, social, and career support to students who are from lower-income families or the first in their families to attend college. Odyssey Scholars are selected on the basis of financial need and family circumstances and will be eligible for additional funding for study abroad and other costs such as health insurance. Students must apply for need-based financial aid in order to be considered for the Odyssey Scholarship.
No Student Loans in Your Financial Aid Package
Odyssey Scholars, like all UChicago students, are not expected to borrow student loans as part of their financial aid package. Instead, students receive University grant funding, which does not need to be repaid. Please note that you will be eligible for Federal Student Loans, but will not be expected to borrow to pay for your education. Contact Financial Aid if you have questions concerning loans.
Odyssey Internship Program
The University of Chicago is committed to providing you with an education that enhances your personal and professional development. To that end, Odyssey Scholars have the opportunity to receive a funded summer Metcalf internship or research opportunity after their first year in the College. To qualify for the opportunity, you will need to participate in Career Advancement programs and meetings with your career adviser. You will meet with your adviser throughout the year to discuss your academic and career interests to ensure that you're in a strong position to find an internship that fits your interests and goals.
UChicago truly embraces and bolsters its own diversity. You'll meet people from all walks of life and have an endless opportunity to welcome new experiences. Not only were my application and enrollment fees waived, but I was offered an Odyssey Scholarship which ultimately helped make higher education a reality for me. All I can say to whomever is responsible for the Odyssey resources is thank you."

-

Nathan M., UChicago Odyssey Scholar