The rigor and insight inherent in a UChicago education give our students remarkable resources for their professional success, not least because they study in and engage with the exciting world metropolis of Chicago. Our students are active participants in the classroom, where they learn the skills of a scholar, and from this they take the ability to lead, to communicate and to be understood in every profession, around the world."

-

John W. Boyer, Dean of the College, 1992-2023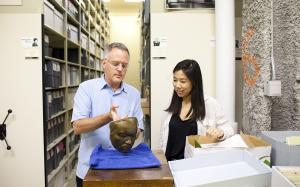 Internships
Hand-on experience is key to career exploration, and since 1997, the Jeff Metcalf Internship Program has been a vital resource in providing professional experience for UChicago students. Students have exclusive access to thousands of Metcalf internship opportunities per year, each paid and offering substantive responsibilities and experience.
Pre-professional preparation
For undergrads interested in pursuing or exploring a particular pre-professional path, our Careers In programs provide guidance and support in a range of career fields, including business, law, journalism, the health professions, and more. Each program is open to students of any major, and is headed by an industry expert who advises students and arranges programming to help students become familiar with that industry. Whether by taking courses at the Booth School of Business, hearing from lawyers practicing in different fields of law, or visiting a cluster of non-profit organizations on a Trek, the UChicago Careers in Programs are built to give students firsthand exposure to the professions that interest them.
Research opportunities
New ideas with the power to change the world arise in our laboratories, classrooms, and libraries. The majority of UChicago students get involved in research on campus, starting as early as their first year. Many of our professors offer paid research positions to students who assist them in their work, and students also have the opportunity to pursue their own research projects at home and around the world.
Further education
Many UChicago students look to further their education by attending graduate school and find that their undergraduate education has left them well prepared to do so. Students interested in pursuing graduate programs are guided by their professors, advisers, and Career Advancement, and benefit from familiarity with the range of graduate and professional programs offered at the University.