Google Drive: I don't know where I would be without this file storage service. All of your files are synchronized across devices, so you can work on documents, powerpoints, spreadsheets, and more from any device that connects you to the internet. You can share these files, so group projects really become a group effort; everyone can work on the document simultaneously. Luckily, if my computer freaks out (as it often does), my work will be easily accessible online.

Wunderlist: This to-do list app is extremely flexible, letting me make multiple lists, take notes on tasks, and set due dates down to the minute. Wunderlist helps me visualize what I have due each day, week, and month, so I can prioritize what needs to get done. The app also syncs to your devices, so nothing slips through the cracks.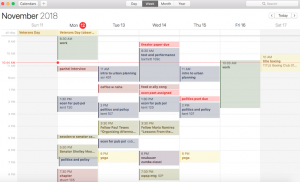 iCal: I think of my life in two distinct phases: before iCal, and after. I put everything on iCal. And I mean everything! Without knowing what my daily schedule looks like -- and important events on the horizon -- I wouldn't be able to be half as productive as I am. iCal is the Apple calendar app, but GCal (Google Calendar) does a great job as well.
Journaling: The pen is mightier than the stylus. At the end of the day, I am a pen-to-paper type of person. I like to journal daily to write down ideas, make random lists, and clear my mind. I think of journaling as a sauna for my soul; it's relaxing, cathartic, and my skin feels really clear afterward. I keep my Moleskine planner in my backpack so I can grab it when inspiration strikes, and having it near helps to maintain my daily journaling routine!