Ijaaz Jackaria
Hometown: Mauritius
Major(s): Philosophy with minors in Physics and Near Eastern Languages and Civilizations
Activities: Maroon Tutor Match, Neighborhood Schools Program (Director of Operations), International Student Advisory Committee (ISAC)
Internships: GreatChina International (Chengdu), Metcalf Internship as a Student Ambassador at the UChicago Center in Delhi
Post-Grad Plans: Hale Education in Abu Dhabi
Why UChicago? I still find it hard to explain how I ended up coming to UChicago. I like to think that it is UChicago who chose me rather than the other way around. *Something* drew me to the uncommon prompts when I applied and when I was accepted with a full financial aid package, I just *knew* that was the place I would be spending the next stage of my life. In retrospect, I don't think there is a better place than UChicago where I could have thrived, pursued my academic interests and lived the life of the mind.
What surprised you?I was pleasantly surprised by how diverse and inclusive the UChicago community is. Considering the fact that I come from a tiny Island at the other side of the globe, mostly unheard of from most of my friends here, I never felt excluded for being foreign. I had no trouble expressing my Muslim identity and practicing my faith. It is currently Ramadan and it is remarkable how undergrads, grads, faculty members and members of the community all join together for Iftar (breaking of fast) and prayers every day, thanks to the Muslim Student Association.
What advice would you offer to the class of 2023? Have fun and enjoy your college years here at UChicago! Don't be afraid to explore your passions and discover new exciting interests while keeping an open mind. And finally, make new friends (and that includes your TAs and professors alike)!
---
Rachel Bailey
Hometown: Liverpool, UK
Major(s): English Language and Literature
Activities: ISAC, Calvert House Tutoring, Undergraduate Investment Banking Group
Internships: Financial Content Analyst for a Chicago startup, Residential Assistant for the Graham School, Summer Session, Metcalf Research Fellow at Princeton University
Post-Grad Plans: Associate Equity Analyst in Chicago
Why UChicago? UChicago drew me in because of the city and the academic rigor. I've always been interested in many topics and UChicago was the place to allow me to pursue all my various interests. Coming from a city, I wanted to be in an urban setting and UChicago granted me that campus feel whilst also being close to a huge city.
Are you where you thought you'd be? After four years, I never thought I would have been able to travel as much as I have because of the College. I have been on treks to Dubai and Abu Dhabi. I have spent a summer researching in Princeton and visiting New York, and I have visited various friends in Miami, Philadelphia and DC. I'm a lot more traveled than I thought I would be.
What surprised you? What surprised me most was how much I enjoyed classes that I thought I would dislike. I never really liked science, but I really enjoyed my class on black holes and stars. Without the Core, I probably never would've taken these classes.
What advice would you offer to the class of 2023? Find the Div School coffee shop early in your college career! It has the best coffee and great lunch options – it's cash only but it is by far my favorite place on campus.
---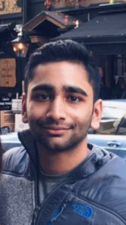 Dev Patel
Hometown: Short Hills, New Jersey
Major(s): Neuroscience and Biology
Activities: Varsity Track and Field, Volunteering at Comer Children's Hospital, Teaching Assistant for two Biology courses, and ISAC.
Internships: Neurobiology Lab (Peggy Mason), High-Performance Electrical Neuroimaging Lab (Stephanie Cacioppo), Staph Aureus Project (Jessica Ridgway) and Mini-fellowship Study for Robotic Surgery (Mohan Gundeti).
Post-Grad Plans: Medical School
What surprised you? The warm personalities of everyone in the UChicago community and the fact that my peers have such interesting backgrounds and stories to tell.
Why UChicago? UChicago is surrounded by one of the best cities in the world. I have met the greatest people, incredibly knowledgeable professors, and caring mentors who come from a wide variety of backgrounds. I truly feel that looking back on my college career, I would not have changed a single thing.
What advice would you offer to the class of 2023? A bad grade is not the end of the world. Just plan to study smarter and harder next time, and make sure to seek out the resources that are readily available to you. Also, take advantage of all the fun things to do in the city of Chicago! You are only in college for four years, so don't treat it as only an academic experience, but as an opportunity to explore and grow.