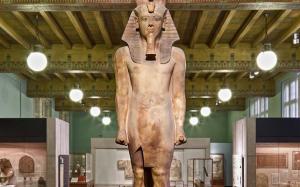 "Grimm's Fairy Tales and the Construction of Childhood," "History of Skepticism," "Truth," and "Code Making-Code Breaking." These courses may seem unrelated, but they are all Signature Courses, a recent initiative introduced in the College. Last quarter, I spontaneously decided to sign up for my first Signature Course and it ended up being one of my favorite classes I've ever taken. Signature Courses cover very specific subject material (primarily exciting themes and ideas in the humanities and the social sciences), are open to all College students, and require no prerequisites. I had an extra spot to fill in my schedule, so I decided to take "The Discovery of Egypt in the Age of European Enlightenment and its Aftermath." This discussion-style class was only 12 students total! This small class size allowed everyone the opportunity to participate, bring up questions, and introduce their own ideas on the subjects we were studying. It also allowed us to get to know our professor and T.A. very well, and I frequently went to them to discuss the readings, ask for essay advice, and just to learn about their research (archaeological expeditions!). The professor was Dr. Nadine Moeller, a professor of Egyptian Archaeology and the director of the Tell Edfu project, an archaeological excavation of an Ancient Egyptian city in southern Egypt dating back to almost 2500 BCE.
The class covered how Egyptology changed throughout the course of history, from the Renaissance, to the Age of Enlightenment, all the way through modern history. We spent a large amount of time learning about Napoleon's expedition to Egypt, when French scientists were brought in to document and analyze aspects of Egypt and its past. The class went on to discuss Orientalist painters, "Egyptomania," and women Egyptologists. We went to the Special Collections Research Center in the Regenstein Library to view the (real!) Description de l'Egypte, a series of publications from the early 1800s aiming to comprehensively catalog and map both ancient and modern Egypt. We used this experience to compare different maps made by explorers of Egypt as they attempted to further understand the country and its history. Towards the end of the quarter, we learned about the founding of the Oriental Institute, a research center/museum on campus dedicated to the study of ancient Near Eastern civilizations. We were able to actually go to the Oriental Institute and view original documents establishing the center and some of the first books and cameras used in the exhibits.  
The class ended with a final paper on any research topic we wanted within the realm of Egyptology. I chose to write about the popularity of King Tut and the artifacts from his tomb, and how their significance has changed over time in response to geopolitical factors. This class touched on themes I had only ever learned about on the Discovery Channel, and I am so glad that I took a chance on a course wildly outside the scope of my major.