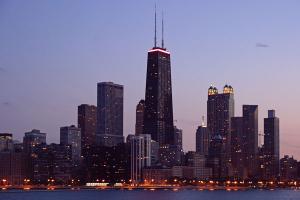 While UChicago's campus is stunning, exploring beyond our neighborhood of Hyde Park and into the diverse and exciting city of Chicago has been an important part of my college experience. At first, Chicago's size worried me (I'm from the Boston area, and Chicago is much larger), but through House trips organized by our Resident Heads, Resident Assistants, and House Council, I found navigating the city was not so intimidating. On our third day here, my Rickert House RA's, Thomas and Elli, guided our whole House downtown, split us into groups, and sent us off on a scavenger hunt around the Loop, Chicago's downtown area. We started our journey on State Street, a popular shopping spot. From there, we went east and stopped at the Art Institute and the famous "Bean", a giant, reflective, bean-shaped sculpture whose actual name is Cloud Gate. After that, we headed across the river and down the Magnificent Mile, another famed shopping district on Michigan Avenue. To finish our journey, we got ice cream from the Ghirardelli shop (yes, it's as yummy as it sounds) and recapped the night of exploration with our RA's. Although my lack of directional skills kept me from making any semblance of a perfect mental map that night, I certainly felt more comfortable with the city and was motivated to see more.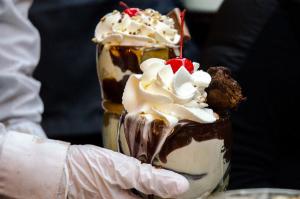 Another favorite House trip of mine was to Fogo de Chao, a well-known Brazilian Steakhouse on the North Side. It's all-you-can-eat, so my House and I vowed not to eat breakfast beforehand to prep our appetites. About 50 people from our House came on the trip, which was made both delicious and affordable thanks to a House fund subsidy. The waiters kept coming over, one after another, offering various types of steak and other meats, cooked in different ways with a bunch of marinades...for vegetarians, they had plenty of enticing roasted veggies...and I think I ate about 6 popovers (the best form of bread ever) during that meal. Afterwards, we were all so full that we went back to the House and lounged together while watching episodes of Friends in the common area.
One of our last trips that year was a show at Second City, an improvisational and sketch theater troupe known for alumni like Amy Sedaris, Jane Lynch, Tina Fey, and Steve Carell. When it was time to leave the House, we all loaded onto a school bus and traveled up to the Old Town neighborhood (where the theater is located). Once we got there, we filled up a local Chipotle with our party of about 40 people, consumed a record number of burritos, then headed to the theater. Despite my initial skepticism (I know the troupe has prestige, but I'm very picky in my comedy consumption) the show ended up being hilarious. I was doubled over the whole time, laughing uncontrollably. The whole ride home, I was trying to repeat some of my favorite jokes I heard that night, but of course, I couldn't do them justice.
Second City, Fogo de Chao, and our first Chicago scavenger hunt were just a few of the awesome trips my House organized for us that year, on top of outings to Chinatown and the Lincoln Park Zoo. UChicago Houses give you the opportunity to get acquainted with the people and city around you, while making trips with lots of fun people throughout the year. Even as I transition to living in an apartment next year, I look forward to staying connected with my House through the House associate program and continuing to explore my new home city through trips with them.