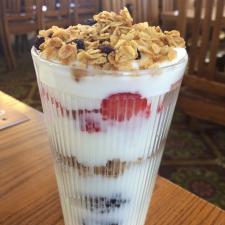 Breakfast
Yogurt Parfait
Layer yogurt, chopped fruits, and granola in the most aesthetically pleasing clear cup you can find. Maybe add some honey or nuts?
Strawberry Shortcake
When my dining hall has biscuits, I like to turn them into strawberry shortcakes. Just slice up some strawberries and add whipped cream! I'm also quite fond of substituting strawberries for bananas or blackberries.
Breakfast Bagel
Toast a bagel and add some sausage, egg, and cheese from the breakfast station. I've also seen people add avocado, which is a good option if you want to feel like a proper college student.
Lunch
Chicken Caesar Sandwich
Toast a bun. Then add chicken from the grill and Caesar salad from the salad bar. If your dining hall doesn't have pre-made Caesar salad, you can just use some lettuce, salad dressing, and parmesan cheese.
Sides
Fry Sauce
Last year, this sauce became quite a sensation at the Chamberlin House table! Just combine mayo, ranch, and ketchup and adjust the proportions to your preference. I hate mayo but am somehow still pretty into this dip.
Thai Peanut Sauce
Mix two parts peanut butter, one part soy sauce, and touches of lemon juice, Sriracha, and honey. Add a bit of water to get the sauce to the right consistency, and then use it as a delicious vegetable dip.
Trail Mix
The basics are peanuts, raisins, and M&M's, but there are plenty more things you can add depending on which snacks you find around the dining hall!
---
Dinner
Pasta and Soup Sauce
Sometimes the soup station doubles as an excellent pasta sauce station. Get a plate of plain pasta, scoop on some soup, and sprinkle a bit of grated cheese. I particularly enjoy my dining hall's tomato soup and broccoli cheddar soup as pasta sauces.
Dessert
Ice Cream Sandwich
Just plop a scoop of ice cream between two cookies and press it into shape. You could also add some crushed Oreos around the edges.
Enjoy!