The Institute
This quarter, I'm taking a class about alternate reality games, or ARGs. For the uninitiated, these are, to quote Wikipedia, "interactive narratives that use the real world as a platform." They're like a cross between role-playing games and performance art… and they're also notoriously difficult to describe without just experiencing one. So, after struggling unsuccessfully to explain the subject of the class to my roommate, I eventually showed her The Institute, a documentary about the Jejune Institute ARG in San Francisco. The game involved people following cryptic flyers to an office building, where they learned about a mysterious organization and were directed to uncover more about it by solving puzzles, participating in payphone dance parties, and interacting with a variety of other clues and activities throughout the city. What I find especially compelling about the documentary is how its structure replicates the experience of playing one of these bizarre games. It blends documentary with the internal narrative of the ARG, at times leading us to be unsure of who's a player and who's a character, what's real and what's fiction. Much like the genre it's documenting, the film has a complicated relationship with the truth.
The Red Shoes
I'm a volunteer at Doc Films, the longest-running student film society in the country, which screens a different movie each night. Every quarter, each day of the week has a different theme, and this quarter, my shift is for Thursday's "Dancing Through the Ages" series, which features twentieth-century cinematic depictions of dance. The series has included popular hits like Grease, Singin' in the Rain, and West Side Story, but my favorite so far has been Michael Powell and Emeric Pressburger's 1948 film The Red Shoes, a movie about a ballerina faced with the choice between dancing and love. Inspired by Hans Christian Andersen's fairy tale of the same name, the film plays like a fairy tale, with lush and colorful ballet sequences that put the plot in a dreamlike limbo while developing character dynamics and exploring the story's themes of artistry and passion. It's been a very influential movie, contributing to a history of dance sequences, from An American in Paris to La La Land, and inspiring directors like Martin Scorsese and Guillermo Del Toro.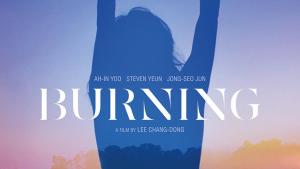 Burning
At Doc Films, I also recently went to see Lee Chang-dong's South Korean psychological mystery Burning, a movie based on Haruki Murakami's short story "Barn Burning." I previously studied Murakami in my humanities Core class Reading Cultures, so I was interested in seeing how his surreal writing would translate to film. And Burning does it beautifully, with a compellingly puzzling story that resists easy interpretation. It lingers on themes of loneliness and memory with slow-burning precision and impressive performances.
Score: A Hockey Musical
I live in Chamberlin House in Burton-Judson Courts, and one of our treasured House traditions is a weekly Bad Movie Night, in which we watch an eclectic selection of amusingly terrible movies. This week, we watched Score: A Hockey Musical, a Canadian movie about a teenager struggling with (and singing about!) the tension between his pacifist beliefs and his desire to play competitive hockey. All of the exposition is given through mediocre musical numbers, and most dialogue between the main characters is needlessly sung back and forth with little regard for musicality. But I have quite a fondness for lighthearted campiness, and I was honestly pretty charmed by it.
Roma
Complementing Chamberlin's Bad Movie Night is a Good Movie Night, hosted by my roommate and me. In preparation for the Oscars, we showed Alfonso Cuarón's Best Picture-nominated Roma, a gorgeously shot film that follows a live-in maid for a middle-class family. I've studied two of Cuarón's other films in past classes, Y Tu Mamá También for Reading Cultures and Gravity for Introduction to Film. And doing so allowed me to better appreciate aspects of Roma. As in Y Tu Mamá También, the film contained subtle background references to Mexican politics and history, many of which went over my head at first but were interesting to research after the movie ended. And, as in Gravity, the film's use of sound was incredibly affecting, as it would gradually build in volume and tension before suddenly cutting out and leaving poignant, intimate silence. Roma was a tender and moving story, and I was grateful to have that context to enhance my viewing.
Of course, movies are a great way to relax, but for me, they've also played a big role in engaging with academics, my House, and the campus at large. And through these, I've seen a lot of great movies that I might not have watched anywhere else!