As a public policy major, I love how the courses in my program of study draw on economics, sociology, political science and law to direct students to a theoretical study of the dynamics of policy. But, one of my favorite classes within the major thus far has been The Business of Non-Profits: The Evolving Social Sector, commonly referred to as campusCATALYST. The class supplies students with applicable experience within a field of public policy, and I was drawn to it immediately, wanting to expand my knowledge of a niche part of the public sector. The course has introduced me to the nuanced world of nonprofits. Professor Christa Velasquez, an expert in the field of nonprofits and nonprofit consulting, guides the class through topics ranging from philanthropy to nonprofit financing.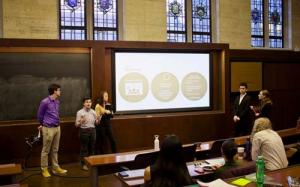 In addition to weekly seminars, students in the class are placed in groups of five. These student groups are then paired with local nonprofits on pro-bono, high impact consulting projects. Students, alongside Professor Velazquez and MBA candidate advisors from the Booth School of Business, conduct a 10-week consulting project, culminating in a final presentation. Using skills acquired from in-class case studies, students are able to make an impact on the local Hyde Park community.
Non-profits range in mission from those encouraging aeronautical awareness among underprivileged female youth to those empowering North Korean refugees in their transition to a new society. Former campusCATALYST student Sierra E. worked with the nonprofit Resilience Partners to develop an impact tracking and evaluation system so that Resilience Partners could present to potential clients and donors.
CampusCATALYST changes the way College students enable change. This is one of the main reasons why Professor Velazquez wanted to bring the program to UChicago. As one of her current students, I am already promoting change within the Hyde Park community through my own consulting project. I wanted to take the class for two reasons. First, I wanted to apply theories learned in the public policy major. Furthermore, I have been working and volunteering with non-profits my entire life. I wanted, through campusCATALYST, to understand the logistics behind non-profits to improve the way I interacted with them as a volunteer and as a member of their community.