"Hmm," said a small voice in his ear. "Difficult. Very difficult. Plenty of courage, I see. Not a bad mind either. There's talent, oh my goodness, yes -- and a nice thirst to prove yourself, now that's interesting … So where shall I put you?"       Well if you're sure -- better be BOOTH!
You may be reading a lot about what House culture looks like at UChicago. You might, like I did, have questions about what that looks like throughout four years of college. For me, Booth House (some may say "Best House") has framed my UChicago education, given me some of my best friends, created lifelong memories, and supported me in every step of college.
Hailing from Jackson, MS (think Johnny Cash's "Jackson"), I arrived at UChicago's campus excited to challenge myself academically, see those beautiful, Neo-Gothic buildings in person, sing with a college choir, and make some new friends. This journey started by moving into a single room on the third floor of International House (in which Booth House is situated). With the help of the House orientation aids, I managed to move all of my stuff into my room. I then met Tom and Laura, my resident heads (also known as RHs; who help support students in their transition to college), and Dhati, my resident assistant (also known as RAs; third and fourth year students who work with the RHs to give students advice about college life and make delicious study breaks). After my parents helped me finish decorating my room, I was ready to start Orientation Week.
Fast forward three weeks, Booth House has its first challenge. Dressed in our most intimidating shorts, shirts, shin guards, long socks, and cleats we make our way to the Midway Plaisance. We're playing "midnight soccer"--a fierce battle of houses playing soccer (not dissimilar from the Quidditch Cup in Harry Potter; although if you want to play Quidditch, UChicago has that too!). Minutes into the game, we can see it's not going well. The other team has scored three times with our team failing to get even one point. In spite of the abysmal performance, Booth House hasn't lost confidence, and we continue to play, fielding everyone (not just the best players), and incessantly chanting our obnoxious chorus of "Booth House, Best House, Booth House, Best House, Booth Hou…"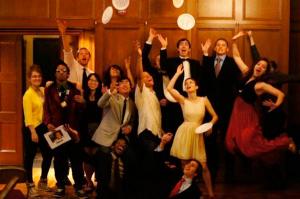 As we finish up first year, I am busy planning the end-of-the-year, inaugural Booth House Original Movies Festival ("The Boothies"). My co-artistic director and I are down to the wire wrangling submissions, finishing our own films, and finalizing the venue details. In spite of the frantic, last-minute shuffling, we pull it off. The videos play, attendees applaud, and everyone receives a paper plate award. In fact, after my first year, "The Boothies" has gone on to become an established Booth House tradition, adding live musical events and receiving great numbers of film submissions.  
Booth remained central to my college experience in my second year, and beyond. I continued to play IM sports with Booth, picked apples at an orchard in Indiana, saw the Chicago Symphony Orchestra performance, and made wacky videos for the Scavenger Hunt--a four-day contest when UChicago students locate objects (like a tiny fiddler crab), build things (like nuclear reactors), and embarrass themselves in offbeat performances (like my singing/ acting in a music video as a 14-year-old Adele who sings her journal).
The memories and friends I've made through Booth have been central to my time at UChicago. As I finish my fourth year, I know that the sorting hat "chose" right (thank you UChicago Housing & Residence Life). Booth House really is the best house on campus, but I'm sure you'll think that of whatever house you live in, too.