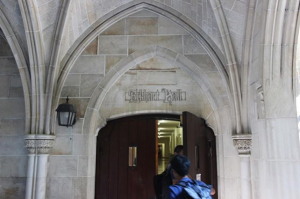 Specializations Include:
Applied Mathematics
Mathematics with a Specialization in Economics
Large and distinguished, the Mathematics faculty (in the top 5 out of 139 reviewed by the National Research Council) includes two winners of the Fields Medal (the equivalent of the Nobel Prize for mathematics), two members of the National Academy of Sciences, and five recipients of Chicago's Quantrell Award for Excellence in Undergraduate Teaching. Faculty interests range from algebraic geometry, Lie theory, and partial differential equations to finite groups and finite group theory, topology, logic, and dynamical systems.
Four bachelor's degrees are available: the BA in mathematics, the BS in mathematics, the BS in applied mathematics, and the BS in mathematics with specialization in economics. Course work for the BA degree offers more elective freedom; course work for the BS degrees places more emphasis on the physical sciences. Qualified College students may receive both a bachelor's and a master's degree in mathematics concurrently at the end of their years in the College.
At what level does an entering student begin mathematics at the University of Chicago? This question is answered individually for students on the basis of their performance on one of two placement tests in mathematics administered during Orientation in September: either a precalculus mathematics placement test or a calculus placement test. Scores on the mathematics placement test determine the appropriate beginning mathematics course for each student: a precalculus course or one of three other courses. Students who wish to begin at a level higher than 15100 must take the calculus placement test, unless they receive Advanced Placement credit as described in the following paragraphs.
Students who submit a score of 5 on the AB Advanced Placement exam in mathematics or a score of 4 on the BC Advanced Placement exam in mathematics receive credit for MATH 15100. Students who submit a score of 5 on the BC Advanced Placement exam in mathematics receive credit for MATH 15100 and 15200. Currently no course credit is offered in the Mathematics Department at UChicago for work done in an International Baccalaureate Programme or for British A-level or O-level examinations. Students with suitable achievement on the calculus placement test are invited to begin with Honors Calculus (MATH 16100) or beyond. A small number of students each year receive placement recommendations beyond Honors Calculus.
The Mathematics Department offers a unique student-led section in the Honors Calculus sequence called Inquiry Based Learning (IBL). There are also opportunities for undergraduates to be hired as course assistants, readers, or tutors. The Directed Reading Program is a new initiative to pair undergraduate students with graduate student and junior faculty mentors to undertake independent study projects of various sizes and scopes. Undergraduates can apply for DRP positions, and those who are selected will be paired with mentors according to their mathematical interests and availability. Participating undergraduates will learn to work independently through studying a topic of their choice, well-suited to their interests. They will develop relationships with graduate student mentors and receive a good deal of personal attention focused on their mathematical studies. Finally, they will gain valuable experience in mathematical communication by giving a presentation on their work to an audience of their peers.
Students in other fields of study may complete a minor in Mathematics.