With its fresh perspectives on works of art, the Chicago School of Literary Criticism placed the University in a preeminent position on the intellectual map. Ranked in the top 10 among 127 English language and literature programs in the nation by the National Research Council, the department's faculty members continue to influence literary life and letters with scholarship on such topics as Marxist and gender theory, Tudor drama, and comparative studies in visual and verbal art. The undergraduate program in English Language and Literature provides students with the opportunity to intensively study works of literature, drama, and film originally written in English. Courses address fundamental questions about topics such as the status of literature within culture, the literary history of a period, the achievements of a major author, the defining characteristics of a genre, the politics of interpretation, the formal beauties of individual works, and the methods of literary scholarship and research.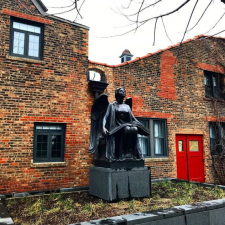 The study of English may be pursued as preparation for graduate work in literature or other disciplines, or as a complement to general education. Students in the English Language and Literature program learn how to ask probing questions of a large body of material; how to formulate, analyze, and judge questions and their answers; and how to present both questions and answers in clear, cogent prose.
The Autumn Quarter study abroad program in London offers the opportunity to study British literature and history in the cultural and political capital of England. The program includes a number of field trips (e.g., Bath, Canterbury, and Cambridge).
Students in other fields of study may complete a minor in English and Creative Writing.