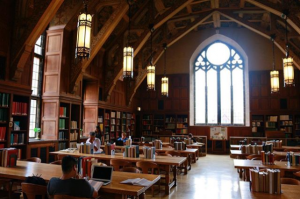 Coffee
CAMPUS FAVORITE: Grounds of Being
Found in the basement of the Divinity School, this popular hangout brews coffee and espresso drinks using a rotating lineup of Colectivo Coffee beans. Besides a plethora of students and professors, you'll also find a selection of local snacks and pastries filling the space. Warning though: cash only. Located in the Basement of Swift Hall, 1025 E. 58th St.
More options for coffee
Plein Air Café, 5751 S. Woodlawn Ave. 
Hallowed Grounds, Located on the second floor of the Reynolds Club, 5706 S. University Ave. 
Barnes & Noble Bookstore Café, 970 E. 58th St. 
Dollop Coffee Co., 5500 S. University Ave.
Harper Café, Located on the third floor of the Harper Memorial Library, 1116 E. 59th St.
Café Logan, Located in the Logan Center for the Arts, 915 E. 60th St.
Cobb Coffee Shop, Located in the basement of Cobb Hall, 5811 S. Ellis Ave.
Starbucks, 5700 S. Maryland Ave. and in Saieh Hall, 5757 S. University Ave. 
Quick Eats
CAMPUS FAVORITE: Medici on 57th 
The first pizzeria in Hyde Park, Medici was a former gallery space/coffee shop before becoming the busy, full-service restaurant and UChicago institution that it is today. Bask in the history of the carvings and writings on the booths (moved from the restaurants original location) and—beyond the pizza—enjoy the wide array of burgers and sandwiches made with Medici Bakery's own bread. The Mexicana Milkshake is a student staple. Located at 1327 E. 57th St.
More options for quick eats
Valois Restaurant, 1518 E. 53rd St.
Campus Food Trucks, Located along Ellis Ave. and University Ave., between 57th and 58th Streets. 
Hutchinson Commons, 5706 S. University Ave.
TrueNorth Café, 1323 E. 57th St. 
Noodles, Etc., 1333 E. 57th St. 
Nando's Peri-Peri, 1447 E. 53rd St. 
Salonica Restaurant, 1440 E. 57th St. 
Mellow Yellow, 1508 E. 53rd St. 
Sit-down Meals
CAMPUS FAVORITE: The Promontory
Doubling as a restaurant and a live music venue, The Promontory celebrates "hearth-to-table" cooking, an ethos that results in new and distinct American dishes such as roasted squash, braised pork shank, black pepper cavatelli, and seared diver scallops. Pro tip: this is also a great place to come for brunch with parents. Located at 5311 S. Lake Park Ave.
More options for sit-down meals
A10, 1462 E. 53rd St. 
Snail Thai Cuisine, 1649 E. 55th St. 
Nile Restaurant, 1162 E. 55th St. 
Piccolo Mondo, 1642 E. 56th St. 
Thai 55, 1607 E. 55th St. 
Shinju Sushi, 1375 E. 53rd St. 
Native Foods Café, 1518 E. Harper Ct. 
Rajun Cajun, 1459 E. 53rd St. 
Roti Modern Mediterranean, 1526 E. 53rd St.