Unparalleled opportunities come from unparalleled generosity. Friends of UChicago go the extra mile every day to make sure our students can thrive and flourish. We are grateful for their support.
Thank you to Katie Peck and Vanguard for all that you do to advance the careers of UChicago students. You are setting students up for a lifetime of success with your support for student internships, entry-level positions, and one-of-a-kind career exploration and networking programs. You have quickly become an invaluable partner to the University.
The Office of Enrollment & Student Advancement (ESA) is home to College Admissions, Financial Aid, and Career Advancement. We work together to support UChicago students at every stage of their academic career, from the moment they begin their college application to the moment they begin their post-graduation career. Our goal is to bring the world's most talented students to UChicago, provide them with the resources they need to take full advantage of everything the University has to offer, and guide them to meaningful and fulfilling post-graduation pursuits.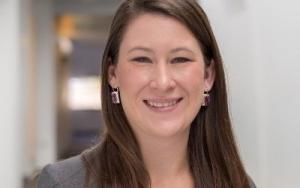 Katie Peck knew that she wanted a career supporting a mission she could believe in. After graduating from Rider University with a degree in Human Resource Management, she found what she was seeking at Vanguard. After two years as an HR coordinator, Katie has stepped into a leadership role as the University and Recruiting Partnerships Lead. She is responsible for managing Vanguard's branding and recruiting efforts on college campuses, representing Vanguard at career fairs and networking events, and thinking of innovative and strategic ways to source new talent.
With Katie at the helm, UChicago and Vanguard have built a flourishing partnership. The company recruits College students for both summer internships and entry-level full-time positions. Vanguard has also hosted second-year students at its headquarters in Pennsylvania for an exploratory career immersion day. In addition, Vanguard has sponsored several important career events for UChicago students, including the Women's Leadership and Professional Networking Reception and Night on Wall Street.
Katie's favorite part of the job is building relationships with students. "What I have found most rewarding about my involvement with UChicago is the relationships that I have built with both the faculty and the students. The students at UChicago never cease to amaze me with their drive to be involved on campus and the breadth of experience that they build for themselves. I love that I can have in-depth conversations with them about the type of work they are looking for next and why they are passionate about careers in finance. It's all worth it when students email me to let me know that they got the job!"
Katie, thank you for all that you do to support our students and guide them to fulfilling careers. We look forward to continuing our partnership with you.
We are grateful for the many friends who help make a difference for UChicago students.