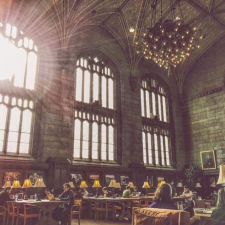 University Merit Scholarships
Exemplary students are selected to receive University merit scholarships on the basis of outstanding academic achievement (including recognition as a National Merit Finalist or through the National Hispanic Recognition Program), extracurricular achievement, demonstrated leadership, and commitment to their communities. Merit awards are determined by committee on the basis of the application for admission without consideration of financial need. These awards range by amount from $4,000-$10,000 and can be awarded for four years of undergraduate study or funding for summer opportunities.
A University Scholarship goes toward the cost of attendance.
A Dean's Scholarship provides funding for one summer opportunity, which recipients can use for a summer internship, a summer research project, or a UChicago Summer Quarter course.
A President's Scholarship provides similar funding for two summers.
A Provost's Scholarship provides research-specific funding for three summers and three academic years, plus a travel stipend.
All first-year applicants are automatically considered for all available merit scholarships; no additional merit scholarship application is required. Transfer students are not eligible for merit-based scholarships. Scholarship winners will receive notification of their awards on a rolling basis through the end of April. Please note that only scholarship winners are notified.
UChicago Empower Scholarships
UChicago First-Generation College Student Scholarship
All first-generation college students will be awarded a $20,000 scholarship over four years. Awards are made to students whose parents did not attain a degree from a four-year college or university. First-generation applicants will automatically be considered and need not submit any additional materials beyond the application for admission. 
First-Generation College Student Internship
The University of Chicago is committed to providing you with an education that enhances your personal and professional development. To that end, all first-generation college students have the opportunity to receive a funded summer Metcalf internship or research opportunity after their first year in the College. To qualify for the opportunity, you will need to participate in Career Advancement programs and meetings with your career adviser. You will meet with your adviser throughout the year to discuss your academic and career interests to ensure that you're in a strong position to find an internship that fits your interests and goals.
National Police and Fire Scholarship
To honor our nation's safety public safety officers, University of Chicago announces our new Police and Fire Scholarship program. For the children of professional, active-duty or killed on duty municipal, county, and state police and firefighters, we offer full-tuition, four-year scholarships. To be considered for this full-tuition scholarship, candidates must be high school seniors who qualify for admission to the University of Chicago and be children (including legally adopted children) of currently active, sworn, professional municipal, county, or state police officers or firefighters. Parents must remain on active duty for the four years of the scholarship. Qualified parent roles include professional police officers with municipal, county, or state police forces, officers in sheriffs' offices, professional firefighters with municipal or county fire departments. Students whose parents have lost their life in the line of duty are also eligible.
If you have any questions, feel free to contact your regional admissions counselor.
University Merit Scholarship Policy
UChicago merit scholarships are guaranteed for four years as long as the student remains a full-time student in good standing with the College. If you are awarded multiple scholarships by the University of Chicago, the scholarship awarded most recently will be the prevailing scholarship and will replace any previously awarded merit scholarship from UChicago.
Admitted students who have been awarded a Summer Session Scholarship prior to their acceptance to UChicago will see this scholarship noted on their award notification as "University Scholarship." The amount may be higher than stated in your original award notification. Any "University Scholarship" is inclusive of your Summer Session award. Students will not receive their Summer Session merit scholarship on top of the "University Scholarship."
First Generation students will receive an automatic $20,000 scholarship over their four years at UChicago. If you receive a "University Scholarship" from UChicago it is inclusive of your First-Generation Scholarship and you will not receive a First-Generation merit scholarship on top of the "University Scholarship."