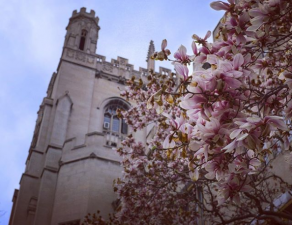 Transfer Credit and Academic Requirements
Transfer students must attend the University of Chicago for at least two academic years (six quarters) and complete the Core curriculum, along with at least half of their major with UChicago. Certain College-sponsored study abroad programs (chiefly the Civilizations study abroad programs) may be used to meet these requirements. More than half of the requirements for a major must be met by registering for courses bearing University of Chicago course numbers.
After matriculation in the College, transfer students may not earn additional credits from schools other than the University of Chicago, except through direct-enrollment study abroad programs sponsored by UChicago. However, these courses will not count toward the residency or course requirements. Most transfer students can complete their studies with no more than one extra quarter beyond the usual four college years, although this may depend on how coursework completed elsewhere fits into the structure of a UChicago degree program.
Tentative evaluations of transfer credit from the Office of the Dean of Students in the College are conducted only for admitted transfer students. These evaluations are based on transcripts and other supporting documents received from all post-secondary schools attended. No evaluations of transfer credit will be granted prior to an offer of admission. For more details, please visit the College's Transfer Credit and Examination Credit pages.
Examination Credit
The College grants credit for some Advanced Placement examinations with scores of 4 or 5 and International Baccalaureate Higher Level examinations with scores of 6 or 7, but not for CLEP, USAFI, or correspondence course work. Entering students also take placement tests in a variety of subjects. Learn more about credit gained by examination.
Transfer Credit
Generally, the College grants transfer credit for liberal arts courses that carry at least three semester hours or four quarter hours of credit and were passed with a grade of C or better (in some cases, a grade of B or better is required) from an accredited institution, subject to review by the Dean of Students office. The College does not grant transfer credit for courses in pre-calculus or calculus (credit for calculus will be granted only by College accreditation or AP exam, or based on completion of a higher-level math course at UChicago). Depending on the student's major and on the level of work to be evaluated, credit for some courses in chemistry, physics, and biology may also be subject to examination. Undergraduate business courses will be reviewed for transfer credit by the faculty of the Booth School of Business. Professional or technical courses (e.g., law, nursing, civil/mechanical engineering, speech, education, leadership, first-year writing) and any kind of tutorial, independent study coursework, including internship credit or prior learning experiences (work experience, trainings, certifications, etc.), do not transfer, only courses similar to those taught in the College may transfer.
Upon graduation from the University of Chicago, transfer credits are listed on the student's University of Chicago transcript only as the number of credits approved for transfer. Courses and grades are not listed, nor do transferred courses contribute to the student's University of Chicago grade point average for the purpose of computing an overall GPA, Dean's List, departmental honors, or general honors. Learn more about transfer credit.